Why we call us Ambassadors for Jesus Christ?
"Now then, we are ambassadors for Christ, as though God were pleading through us: we implore you on Christ's behalf, be reconciled to God!"
2. Corinthians 5:20
How can I be part of AFJCMM?
"If you be interrested in joining the Ministry, feel free to reach out to us on the Road but you can also fillout the request, and we will contact you"
How can I support the AFJCMM and not beeing a member?
We do appriciate your Prayer and finacial Support.
We are a registered non profit Organization in the USA. Under 501c with the EIN: 76-0579511. Principal Officer's Name: Cortney GUEBARA.
Since 1999 we do fly our Color.
Biker Weddings, Biker Blessings, Biker Churches
If you be interrested in a Biker Wedding, our Ministers are more than willing to bless you.
New Season, New Bike, yes we do bless Bikers and ask our allmighty God for protection. See us on the Road…
Yes we do Biker Services and Biker Church Meetings. Contact the local organization for more information
Meet us on Rallys
Since our beginning in the US we do have booths on rallies. If you have a rally and looking for a booth there that will truly bless all at your rally. Ask us we are more than willing to step in the gap!
You got Support Stuff?
Yes we do.
Each Country does may have some Support Ware. Please contact the local organzation or see us on the Rallys
This is our international 20 Year Support Longsleeve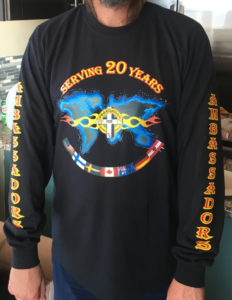 for that longsleeve contact us under this Mailaddy

How you come that you belive in God?
Well, we all have a history. We were not born the way we are today. For some of us it was a long way to reach the point that they realized that they are in a need of a savior to have their sins forgiven and being granted of a second change to have a real relationship with our creator. The best is to ask our members about their journey.
Can you preach at my home church?
Shure we love to to so. Just contact the local organization.
Be blessed
Helping with the last steps on earth
Life is sometimes very hard. In these days you may need somebody that you can talk to or even say some words at the funeral of your loved once. Our members are skilled to do so. Just contact the local organization. We are here to help.